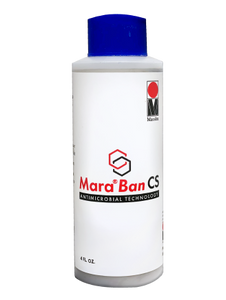 Marabu MaraBan CS - Antimicrobial Additive 4oz.

MaraBan is an anti-microbial additive to be used in conjunction with ClearShield liquid laminates for a variety of coating applications. MaraBan anti-microbial technology adds an additional layer of protection to your media. When combined with ClearShield water-based liquid laminates, prints will now be protected from microbes as well as obtain UV-protection, chemical resistance, abrasion resistance, and more.
Shake well before use.
Using ratio of 32:1 (4ozs of MaraBan CS (1 container) for 1 gallon of ClearShield).
Pour MaraBan CS into the ClearShield and stir for five minutes.
Avoid "whipping" or mixing air into the solution to prevent bubbles on the coated substrate.
Apply mixture as directed on the ClearShield container.
There is a pot life (time from mixing two products together at which the mixed product is no longer useable) of 6 hours.
 Sold Each, 4/Case,