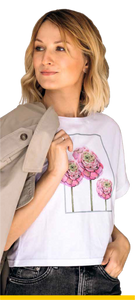 Poli-Tape TURBO PRINT 4010-S BLOCKOUT 4010 Matte
Adhesive Clear PET Liner, slightly Sticky
Sublimation resistant, printable textile transfer vinyl (opaque white, 120 µm) with a block-out intermediate layer. The low temperature hotmelt allows fast application at low temperature (265° F, 5 sec.)/ (320° F, 15 sec)
To avoid a sublimation migration we recommend that the garment is not preheated.
The vinyl possesses a soft textile touch and has excellent cutting and weeding attributes. After the thermal transfer, a semi-matt finish with high resolution is achieved.
After heat-transfer we recommend removing the PET-liner warm. We recommend POLI-TACK 854 or POLI-TACK 853 for the application process.
cotton, 
Compatible with Solvent/Eco-solvent/Latex Ink

Applies to: Cotton, polyester, uncoated nylon, mixtures of polyester/cotton and polyester/acrylic.
Use transfer mask Poli-Tack 854 - Medium tack, with liner. Transfer Mask 853 can be used.