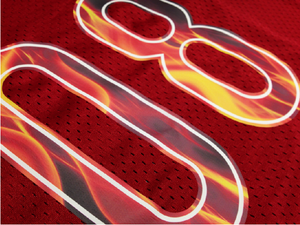 Specialty Materials SUBBLOCKER Printable™ SBP-2090 Heat Transfer Vinyl White
5.2mil
Subblocker Printable™ is a sublimation resistant, white polyurethane film. It has an additional layer to block dye migration. Subblocker Printable™ is suitable for light and dark fabrics and has a semi-matte finish. It offers high-resolution prints, has a soft hand, and has excellent weeding properties. 
Slightly sticky clear PET liner.
Thickness makes easy to weed.
Compatible with Solvent/Eco-solvent/Latex Ink
Applies to: Cotton, Uncoated Polyester, Blended Fabrics Excluding Nylon
Use transfer mask KTM-500, Subblocker Printable has a slightly sticky PET liner
Courtesy of Hipbone Clothing, Charleston, SC