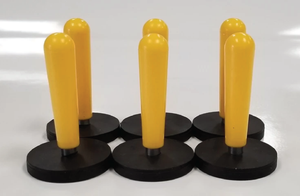 Wrap Magnets - 6/Pack Soft Rubber Coated Magnets - 1-11/16" Diameter

Made for applying vinyl giving an extra hand while saving tape or where tape placement is inconvenient. Bright color makes easy to locate.

Sturdy handles makes for easy placement.
Used by professionals, will not scratch graphics or substrate.
Each magnet has 30 pounds of pull.